Total Body Development
RESOURCES
Invest in Yourself!
When working out at home, get the right equipment for your fitness level to smash those goals!
*As an Affiliate, I earn from qualifying purchases.
Fitness Equipment
Exercising at home has surged in popularity and that may reflect a new, longer lasting trend. With that has come an increasing array of fitness equipment and workout options.
These are some of the equipment I use and recommend to my clients to help them reach their fitness goals.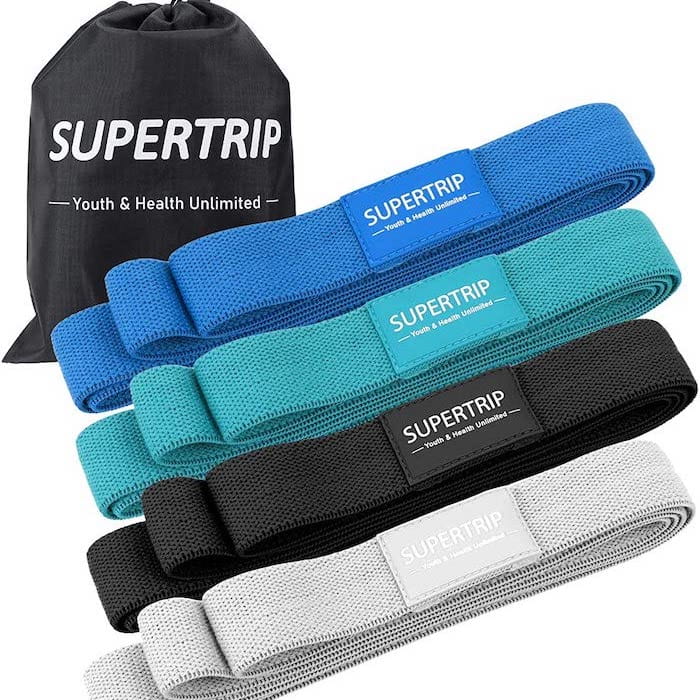 Resistance Bands
Resistance bands are a cost-effective way to challenge your muscles in a safe and controlled manner.
This product includes four resistance bands with different resistance levels to challenge beginner through expert levels.
Use these bands to assist, stretch, and strengthen your muscles.
I love using these bands compared to the typical rubber ones because they don't tear off your hair and skin. I use these bands to wrap around your body, and it creates less friction and digging into the skin. The fabric greatly reduces the possibility of a burn.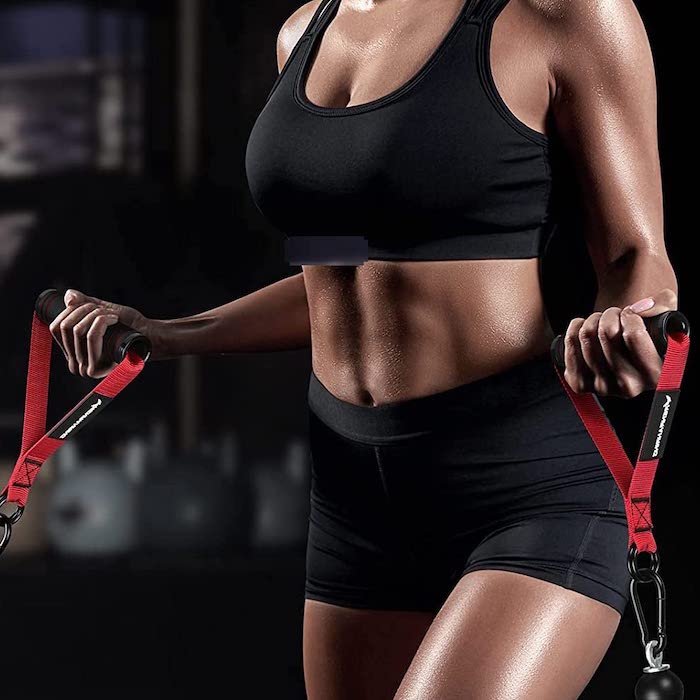 Resistance Band Handles
Get these handles with D-Rings to extend the exercise options of your resistance bands and add versatility to your workouts.
I like using these to attach onto the resistance bands for a better grip. The carabiners are already attached to the handles so you won't need to buy some.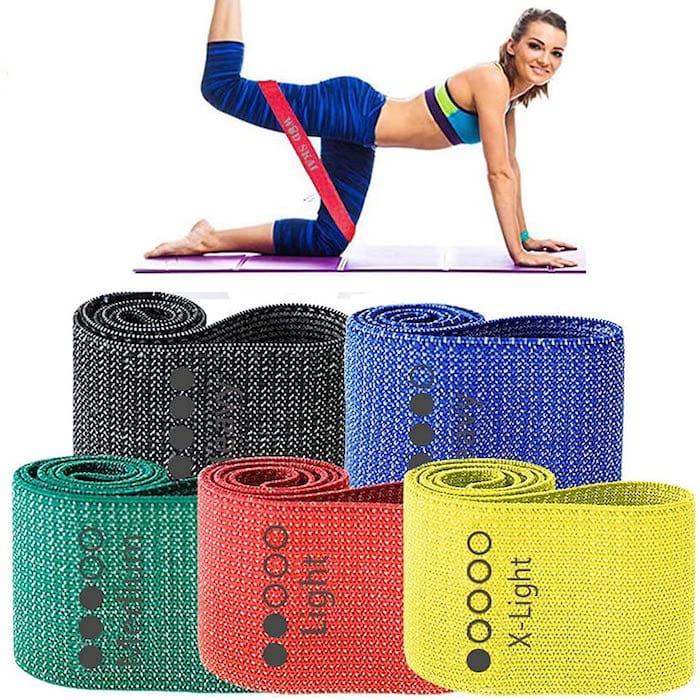 Resistance Loops
These 13″ mini resistance bands improve your body coordination while increasing muscle endurance and strength.
This product includes five resistance loops with different resistance levels to challenge you now and in the future.
If you have ever tried lateral walks with ordinary mini band around the knees and struggle because your hair and skin seems like it's going to get ripped, you'll know  why I like these fabric ones! Now you can focus on the exercise rather than worrying about your skin.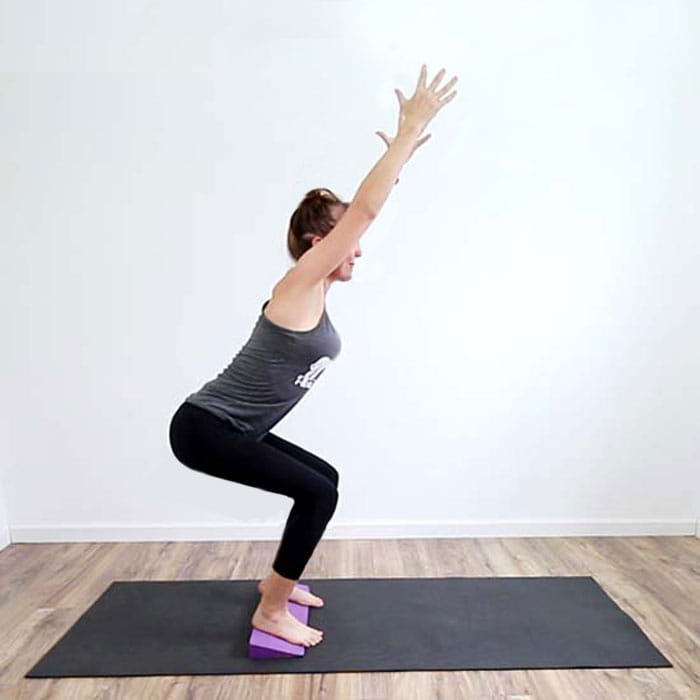 Gaiam Yoga Block Wedge
This wedge-shaped yoga block softens harsh angles to support joints, and increase comfort and stability. Made from strong but lightweight EVA foam. Ideal for sensitive wrists, or tight lower backs and hamstrings.
I use this tool a lot to help people manage gravity better and put them in better positions for squats, deadlifts, single leg movements and even ground based patterns and exercises. It's soft so it doesn't hurt your feet or your hands when stepping or putting yourself on it.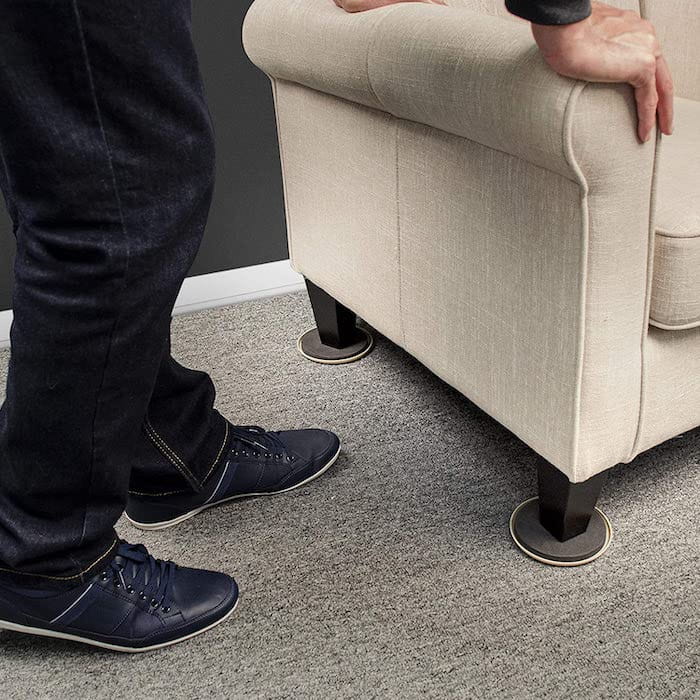 Heavy Furniture Sliders
These premium heavy furniture sliders allow easy movement on carpet, hardwood, linoleum, and other flooring surfaces.
Repurpose these sliders for lateral resistance training. Select your table, desk, or sofa to meet your weight requirements.
This product includes 16 different sized and shaped sliders.
I use these for mountain climbers so that it unweights your legs and puts more emphasis on the core. Bonus, if you need to move heavy furniture around, now you have something to make it easier for you!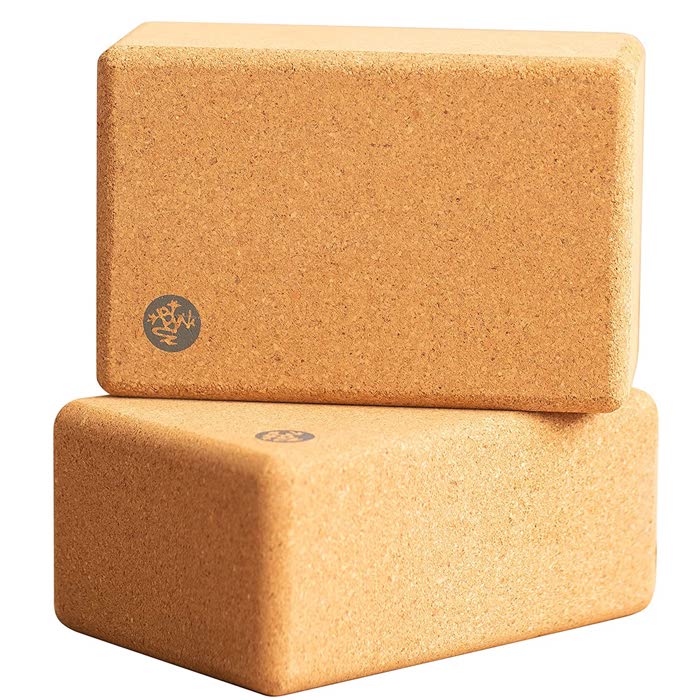 Yoga Cork Blocks
Made of sustainable cork, this high-quality cork yoga block has a firmness not found in foam blocks and allows you to feel secure in the support it provides. Easy to grip textured surface– Great for all skill levels.
I like these blocks for supporting proper form for body-weight exercises, yoga poses, and stretching. The cork block is omfortable, non-slip, and sturdy.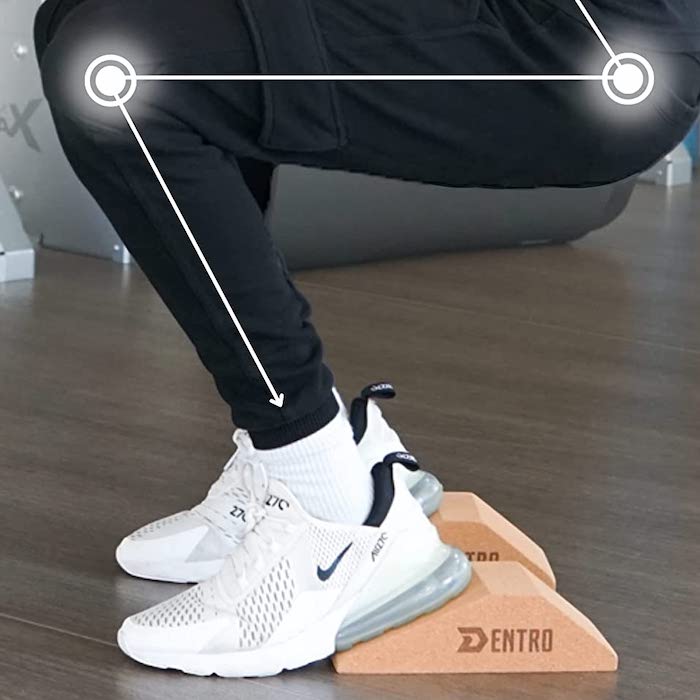 Cork Squat Wedge Blocks
These squat wedge blocks are made of high-density cork with a dual angled slope to add more exercises to your workout while preventing tipping. Achieve perfect form for squats, lunges, and deadlifts. Also great for stretching and physical therapy exercises.
I use this tool to help people achieve proper form for squats and deadlifts. It emphasizes target muscles while reducing joint and ligament strain. Comfortable, non-slip, and sturdy wedge.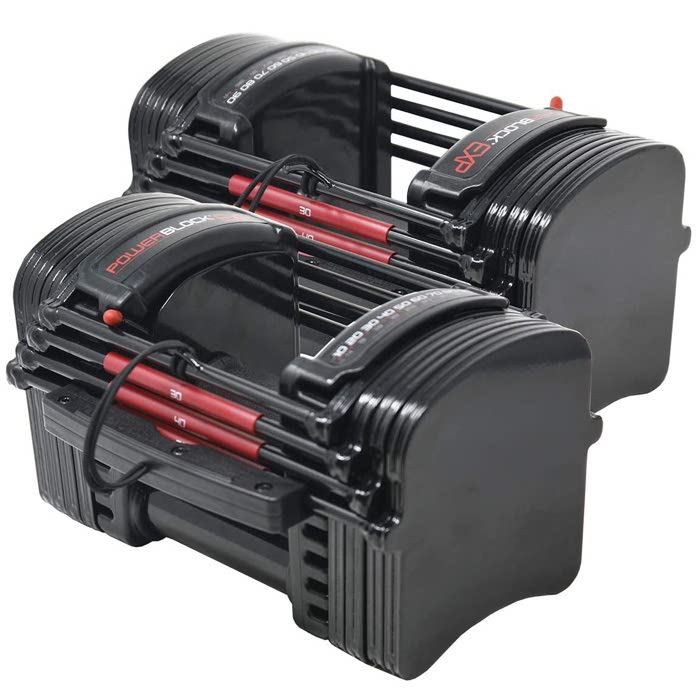 Powerblock Adjustable Dumbbell
The Powerblock EXP ranges from 5 to 50 pounds per hand, replacing 16 pairs of dumbbells. It's compact, so you won't have a bunch of dumbbells lying around.
It can optionally be expanded to 70 or 90 pounds per hand.
These are great for working out at home on your own or though our virtual training programs
I personally use these for my in-person training clients because of their versatility.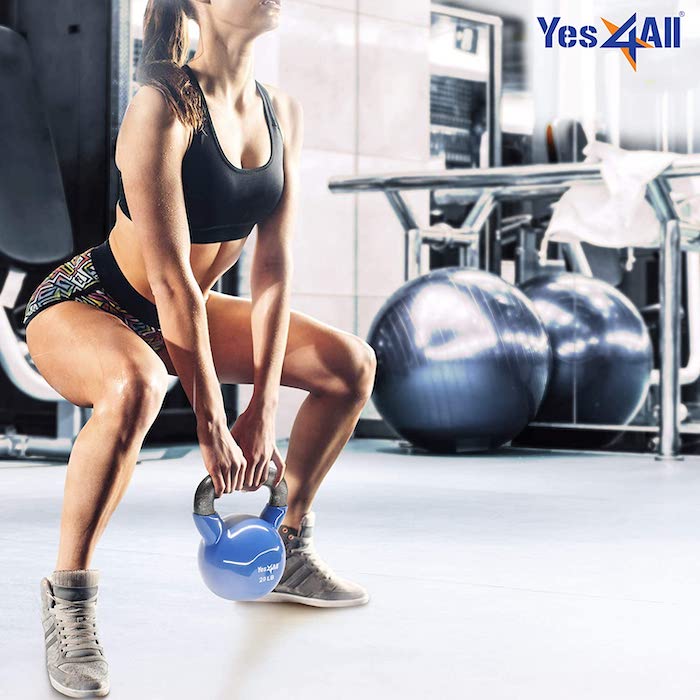 Vinyl Coated Kettlebells
Availalbe in 5 – 50 lbs, the vinyl casing reduces noise and protects flooring.
I like using kettlebells to start people off with because they are so versatile. Also, they are easy to transport and it opens up different exercise options in comparison to dumbbells.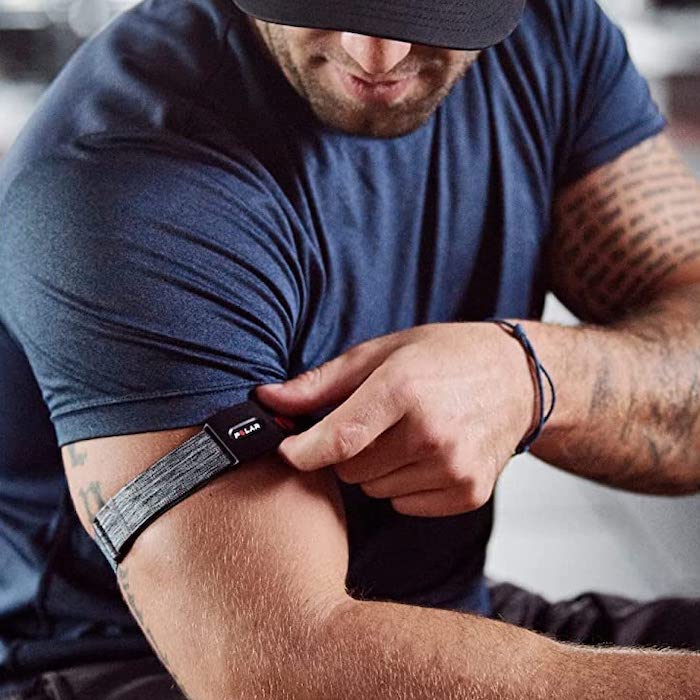 Polar Verity Sense Heart Rate Monitor
This optical heart rate sensor offers an easy-to-use alternative to heart rate chest straps. Attach around forearm or bicep. Stream heart rate via Bluetooth, ANT+, or train in standalone mode and sync up later.
Rechargable battery lasts up to 20 hours.
This displays your real time heart rate, so I can see if I am pushing you hard enough. It gives you a target heart rate zone to achieve the best fat burning or to get your cardio workout to let you perform the activities you enjoy with less fatigue. 
SPORTS NUTRITION
Proper nutrition is an important part of your overall fitness regimen. Sometimes it's just not feasible to get enough of the nutrients your body needs through your daily diet. Supplements close this gap and allow you to maximize the benefits from exercise.
These are some of the products I use and recommend to clients: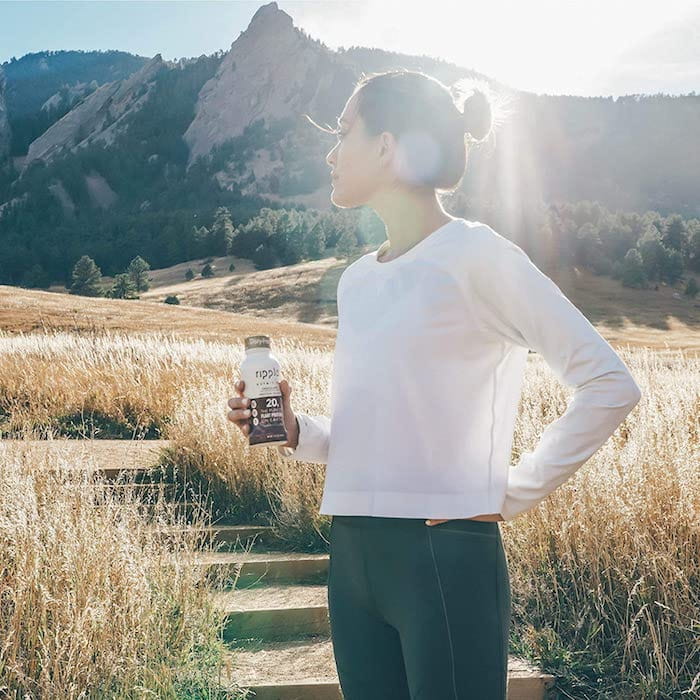 Ripple Vegan Protein Shake
Ripple Shakes provide 20 grams of pea protein, which has higher nutritional value, tastes better and is more sustainable than other plant-based proteins.
I suggest this protein drink to clients because it's vegan, plant based protein and doesn't have the added synthetic ingredients as other protein drinks do. Also, it tastes great!
Most people complain about protein shakes tasting fake and chalky, but this one has a smooth texture and great flavors. I prefer the coffee flavor!
Great way to get protein on the go for a nice snack for those who are busy and can't get protein by eating food.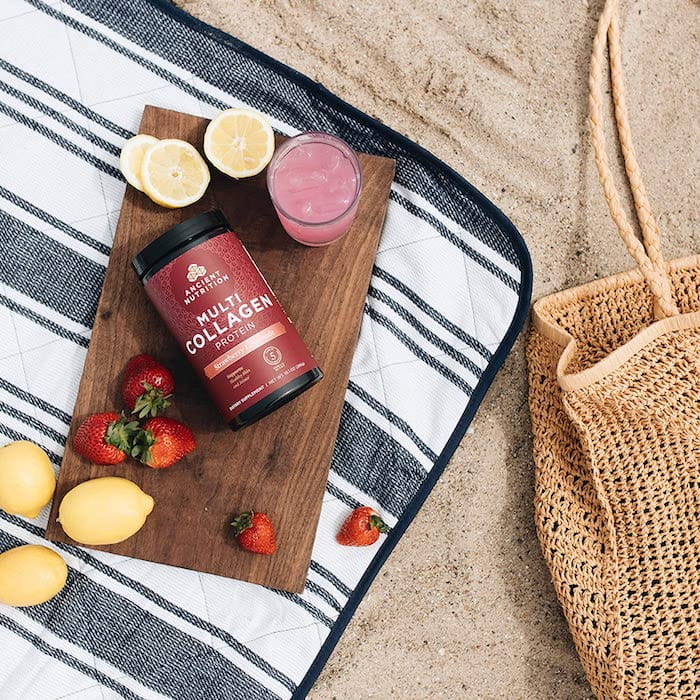 Ancient Nutrition Multi Collagen Protein Powder
Formulated by Dr. Josh Axe, this hydrolyzed collagen supplement features five types of collagen from four sources – bovine, chicken, fish, and eggshells.
I like and use this brand because it tastes great, promotes healthy joints, gut health, repairs the ligaments after working out to promote recovery and strengthen tendons.